BARNBOUGLE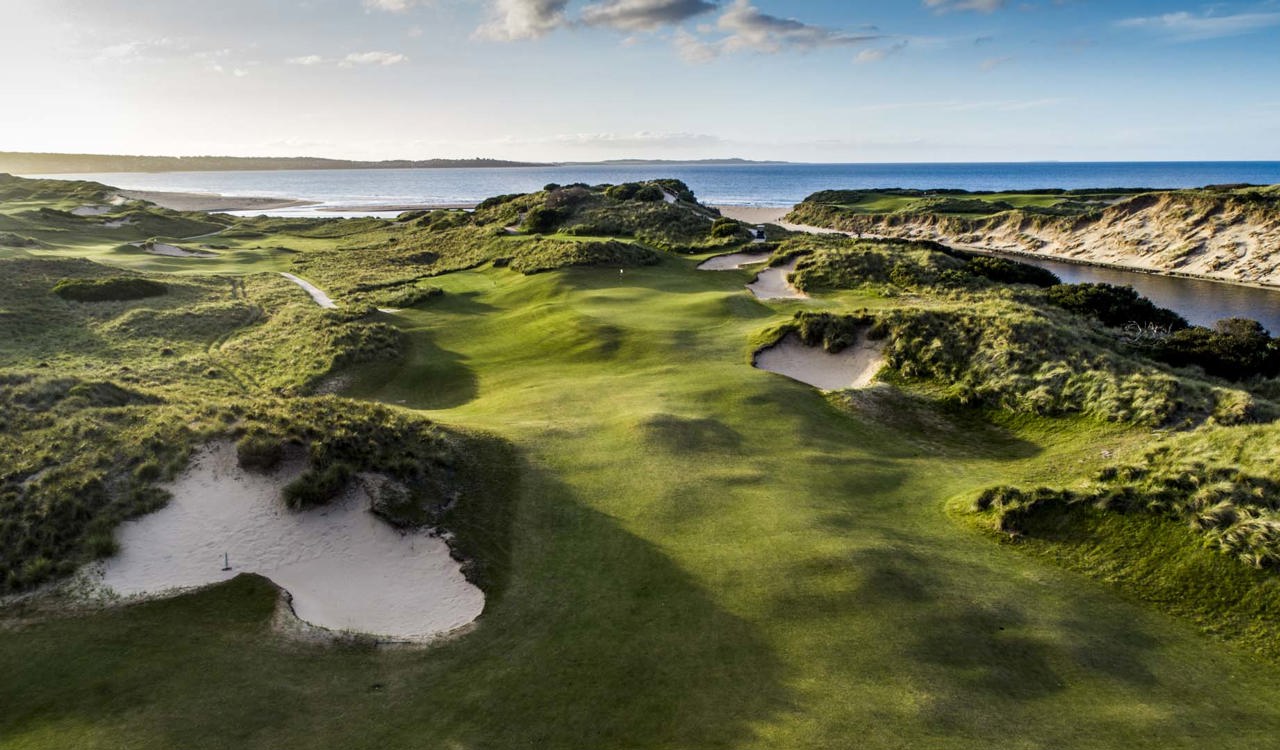 The author's happy place. It's 36 holes of golfing greatness – and a 14-hole bit of fun. And a sports bar for the ages. And two fabulous restaurants. And cracking accommodation. And top local wines. And for the price, the best value golf in the world bar none. Bar none! A public course, if it was in the United States they'd charge Pebble Beach prices. They do it right in Tassie. Click here to find out more.
KING ISLAND
King Island is about halfway between Tasmania and Melbourne and accessible by small and medium-sized aeroplanes. The infrastructure on the island is 'country town Australia' and the major export is cheese. But the golf is world class. Cape Wickham is extraordinary. It's flat-out unbelievable. It's sister site at Ocean Dunes is a poor cousin but only if you're talking Rupert Murdoch's cousins, as in they're still loaded and a heck of a lot fun. Play them both. Eat some cheese. Drink some beer. Play them both again. Click here to find out how.
ADELAIDE
People knock Adelaide because … well, they are fools! Ha. Adelaide has it going on. Cracking golf courses, famous wine regions, excellent pubs, and a day-night Test cricket match that allows a golf tourist AM golf, a big long lunch in a pub, followed by two sessions of top Test cricket. And you can do the same around their LIV Golf tournament. And that, friends, is livin' large. Click here for more info.
THE SANDBELT
The Melbourne Sandbelt is justifiably famous, and you should play it all to find out why. Stay on site at the excellent Victoria Golf Club (home of the great Peter Thomson, there's a statue of him out the front) and receive membership privileges akin to the Captain. This means you can drink from a pewter mug of a famous old member, receive reciprocal rights with Royal Melbourne, Kingston Heath, Huntingdale, and others, and you can play Victoria 72 holes a day if you want to. True story. Click here to find out more.
MORNINGTON PENINSULA
If the Sandbelt has Melbourne's most prestigious golf courses in Australia, the Mornington Peninsula, about an hour south of Melbourne CBD, hosts the most fun. The National has three top-40 Australia courses on one site. St Andrews Beach is just golden. And Moonah Links and Portsea and The Dunes … it's just great golf. Easy to get around. Great food. Vineyards. Cracking pubs. A golfer could be very happy there. Click here to find out more.
BONVILLE
They call Bonville "Australia's Augusta" and that's a stretch because Augusta is America's Royal Melbourne, according to Mike Clayton who would know. But Bonville sure is pretty and a cracking good fun track, and there are many Australian animals bounding about, and there's fine accommodation on site and a Michelin-hatted restaurant, and the top beaches and pubs of of Coffs Harbour, Sawtell and Berrigan are nearby. It's a cracking area and Bonville's a jewel. Click here for tour info.
SYDNEY AND THE HUNTER VALLEY
The winner is Sydney, said the totally incorruptible Juan Antonio Samaranch when he anointed the city as host of the 2000 Olympic Games, and he didn't know the half of it. Sydney is a sexy, sexy beast, and the top courses are particularly worth a visit. But even the lesser ones such as St Michael's next to famous NSW (pictured) and the author's home track Long Reef GC are superb – and great value – on any visit to the Emerald and/or Sin City of Sydney. Click here to find out more.
NSW SOUTH COAST
Narooma on the NSW south coast hosts a very good Open – known as the Narooma Open – on the weekend before Melbourne Cup Day each year, and is a cracking spot to play golf, take photos of yourself playing golf, and watching whales leap out to sea while taking photos of yourself watching whales and playing golf. It's six hour drive from Sydney with three decent golf clubs – Mollymook Hilltop the pick – in the way. You know what to do. Click here for more info.