MCG TOURS AND DE BORTOLI WINES NORTH ASIAN DIVISION PRESENT…
the nam
November 21-28, 2022
asia's best golf
Greg Norman designs, Jack Nicklaus designs. Carts. Caddies. Spectacular seaside, dunes-based Vietnamese golf.
4-5* ACCOMMODATION
Luxurious single rooms in Hanoi, Da Nang and Halong Bay.
all that you eat. all that you drink.
Dinners in Hanoi. Beach barbecues in Da Nang. Sunset cruise on Halong Bay. "Free flow" beer. Wine. It's all in.
ALL INTERNAL TRANSFERS
Local guides. Luxury "Limousine" mini-vans. Transfers to golf, restaurants. Internal (Domestic) flights.
Itinerary
welcome
DAY 1 | MONDAY NOVEMBER 21 | ARRIVE HANOI | TRANSFER TO HOTEL | EAT LIKE VIKINGS
On arrival at Hanoi International Airport, we'll meet our guides and transfer in air-conditioned Limousine Van to our 5-star hotel. Freshen up, enjoy a cold beer before transferring to our Welcome Dinner at a nearby restaurant.
golf of kings
DAY 2 | TUESDAY NOVEMBER 22 | GOLF
After a sumptuous breakfast we'll transfer via Limousine Van to the BRG Kings Island Golf Resort, a 54-hole Jack Nicklaus design opened in 2018. "The Kings" course sports wide, tightly-mown fairways with intricate greenside bunker complexes.
halong to go
DAY 3 | WEDNESDAY NOVEMBER 23 | GOLF | WORLD'S MOST SCENIC SUNSET DINER CRUISE
We drive today to famous Halong Bay and the FLC Halong Bay Golf Club & Luxury Resort. Our guides will check our luggage onto our cruise boat while we golf the spectacular 18-hole championship Schmidt-Curley layout. Offering stunning scenic ocean views over the famous UNESCO world heritage site, the course sits above the old town of Ha Long Bay and overlooks the spectacular limestone karst-riddled bay. Dinner that evening is aboard our cruise boat, moored in the word's most beautiful bay.
A MOVING DAY – and night
DAY 4 | THURSDAY NOVEMBER 24 | NIGHT GOLF
We fly to Da Nang to play the Nicklaus course under lights. The course is set among paddy fields and rolls along the Coco River with views of local villages, twinkling by night
shark attack
DAY 5 | FRIDAY NOVEMBER 25 | GOLF | BEACH BARBECUE
Greg Norman's Dunes course at Da Nang GC. Dinner that evening is a beachside barbecue hosted by Anbang Beachside Boutique Resort & Villas, a pub and resort run by an Aussie which sits on the beach. 
Golf. Sunset. Luxe.
DAY 6 | SATURDAY NOVEMBER 26 | GOLF | BANYAN TREE | PRESENTATION DINNER
Golf at Laguna Lang Co GC. A night of luxury at the Banyan Tree Lang Co Hotel.
HANOI – FOR ONE NIGHT ONLY
DAY 7 | SUNDAY NOVEMBER 27 | EXPLORE HANOI
Hour flight back to Hanoi. Freshen up ahead of Tour Presentation Long Lunch.
DEPART
DAY 8 | SUNDAY NOVEMBER 28 | A MOVING DAY
Sumptuous breakfast. Limousine Vans to Airport. Flights to your next destination.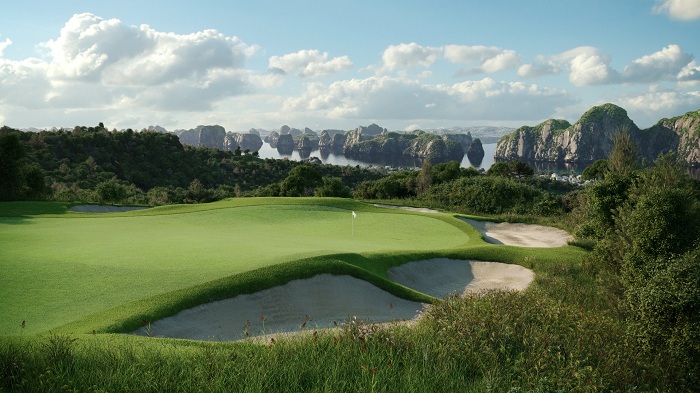 Tarrif:
$4200
Includes:

Seven nights accommodation in own 4-5* room
Five rounds premium golf with carts & caddies
All breakfasts and dinners including a sunset cruise on Halong Bay, beach barbecues, restaurants.
Golf competitions and prizes
Free flow beer and wine
All airport, golf and other transfers
Internal (Domestic) flights.
Golf course and hotel at Halong Bay
Does not include:
International flights
Tips for caddies
Can include:
Quote for non-golfing partner or single
Extra-curricular activities for above
Luxe: Banyan Tree @ Da Nang
interested?
SIGN UP
Register your interest and stay abreast of developments